*This post may contain affiliate links. As an Amazon Associate we earn from qualifying purchases.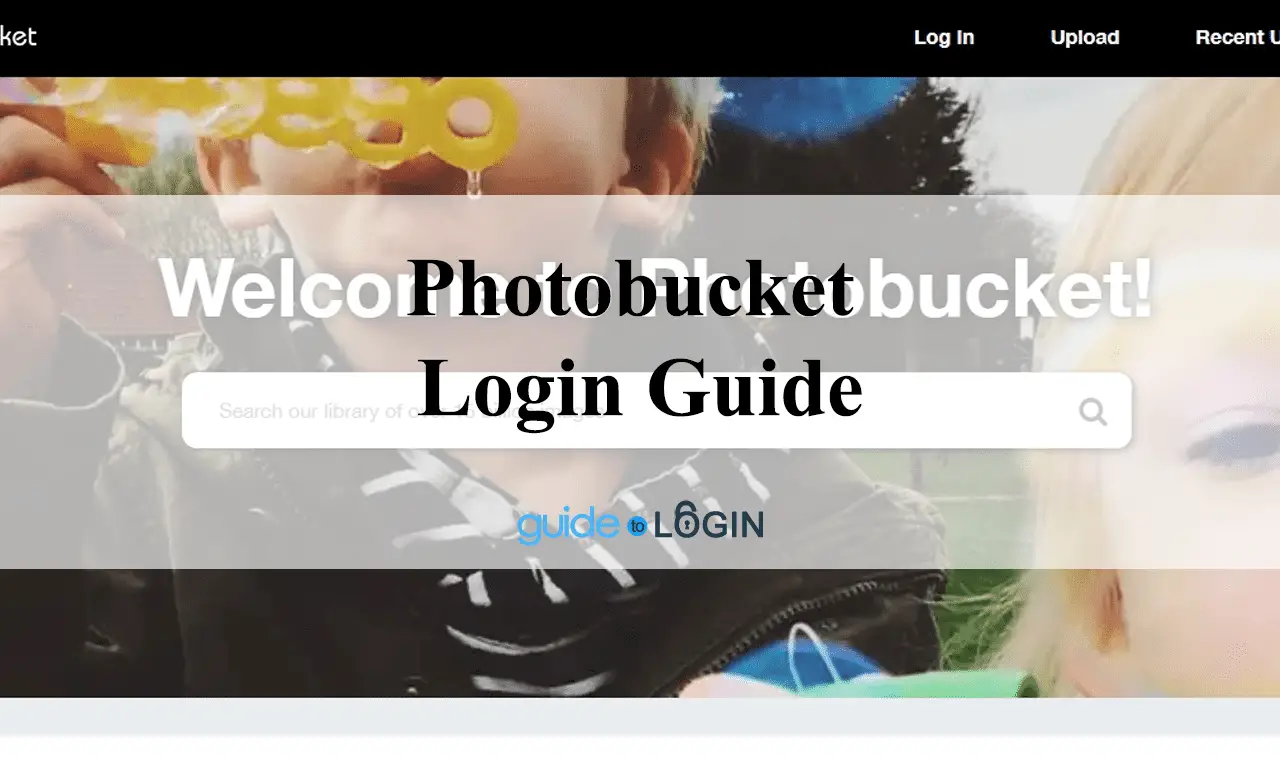 Photobucket is one of the largest image-hosting websites in the world. As part of this, it offers easy access to a control panel where you can store, edit, share and print your images. Here's a quick guide to the Photobucket login process, plus some additional information on the company and what you can expect from them.
How To Log In To Photobucket
To log in, follow these steps.
1. Click the Log In button. This is located at the very top of the page, on the right side of the middle third. Notably, this is further to the left than the login buttons for many other sites, though Photobucket has helpfully created a high-contrast white-on-black bar to make it easy to find. The bar does not scroll with the screen, so you'll have to be at the top of the page to see it.
2. Select your login method. Photobucket offers three forms of login – Facebook, Twitter, and Photobucket Member.
If you're using Facebook, click on the button with the Facebook 'f' icon. This will open a small window prompting you to enter your email or phone number and your password. Immediately below that, you'll see the Log In button to log in with, a help link if you've forgotten your account, and the option to create a new account.
If you're using Twitter, click the pale blue button with Twitter's bird logo. This will open a small window prompting the use of your Twitter information. (Notably, this button wasn't working when we attempted to use it – hopefully a short-term glitch, but worth mentioning all the same.)
If you're logging in as a member, enter your username or email in the first field and your password in the second field. Then click Log In below it.
Frequently Asked Questions
After your Photobucket login, you may have several other questions that need to be addressed. Here are some of the most common questions people have.
My Links Aren't Copying When I Click Them. Why?
Photobucket uses Flash to support some parts of its website. If you can't seem to copy links, you may have Flash disabled. If you don't know how to enable it, visit Google.com and search for how you can enable it on the browser you're using.
How Do I Get Started Once I Have An Account?
This depends on how you're accessing Photobucket. You can start uploading images right away (even with a free account), or you can create a few albums to organize things first. We'll go over the albums in a moment – first, let's look at how you can get your pictures and videos into Photobucket.
Desktop Browsers: With a browser, you can drag and drop images directly into your browser, or you can manually search through files on your computer.

Tip: If you need to upload a lot of images, move them all to the same folder somewhere on your computer. We suggest making a folder called 'Photobucket' on your desktop and copying (not moving, just copying) all pictures into that folder. Once you're done uploading, you can safely delete the folder to avoid cluttering your desktop.

Mobile Browsers: Users on Android and iPhone can upload pictures through the Photobucket app. Click here to find it in the Google Play store, and search through the App Store on iOS. (Sorry, we couldn't get a link!)
Import Facebook Albums: If you've linked your Facebook and Photobucket accounts, you can import images directly from Facebook and create them in new albums.
Once you have some pictures, it's time to organize them. You can create albums either when you're uploading pictures or directly from your albums page.
If you already have pictures, you can organize them into albums after uploading, too. Click an image, and you'll see a set of options displayed on a blue toolbar. Find the button that matches your needs, and you're all set.
What's All This About Bandwidth?
Your Bandwidth is the amount of content you can display on other websites through Photobucket's third-party hosting. This is different – and separate from – the amount of storage space Photobucket gives you.
Each view of one of your pictures consumes your Bandwidth. However, most people won't come anywhere near the full amount of Bandwidth available – not unless you're continually posting high-quality images and videos, at least.
If you need to shrink the size of your files, you can use a free image editor to compress the file. It won't lose too much quality – not enough to notice unless you're printing it, in most cases – and you could cut your use of bandwidth in half or more.
Photobucket typically allows 10 GB of Bandwidth each month.
How Can I Contact Tech Support?
If you need more help and you can't find any guidance on Photobucket's website, you can contact them for help by sending an email to [email protected].
The support team is available Monday to Friday, 8 AM to 5 PM (in Mountain Standard Time, UTC -7). If you have a paid subscription plan, send your request to [email protected] instead. The tech support team gives priority to paying members.
A Brief History Of Photobucket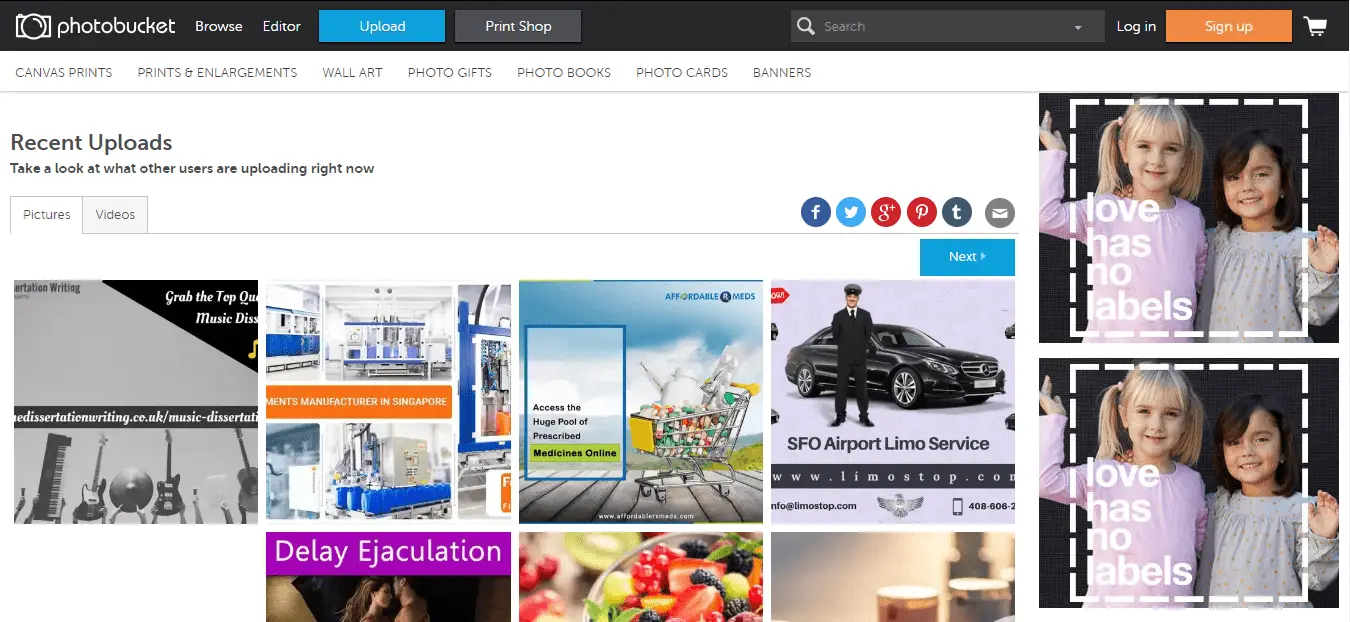 Photobucket is one of the largest image-hosting sites in the world, with more than ten billion images from about one hundred million members in its archives. It's estimated that Photobucket hosts more than four million new photos and videos every single day.
The site got its start in May 2003 when founders Alex Welch and Darren Crystal had the idea to create a more accessible place to store and host images. Funding from Trinity Ventures helped the website get started, and it wasn't long before Photobucket began supplementing its income by offering printed products based on the photos hosted.
In 2007, Fox Interactive Media (a division of News Corp) purchased Photobucket. Their parent company turned around and sold it just two years later, giving Photobucket to a startup from Seattle known as Ontela. At that point, Ontela renamed itself Photobucket Corporation, and they continue to operate the site.
Photobucket's explosive growth across the internet was helped by the simplicity of its interface. Users could sort pictures and video into albums (even nesting albums inside of each other), rename their images, perform basic editing, and most importantly, hotlink images so they could be displayed on other websites.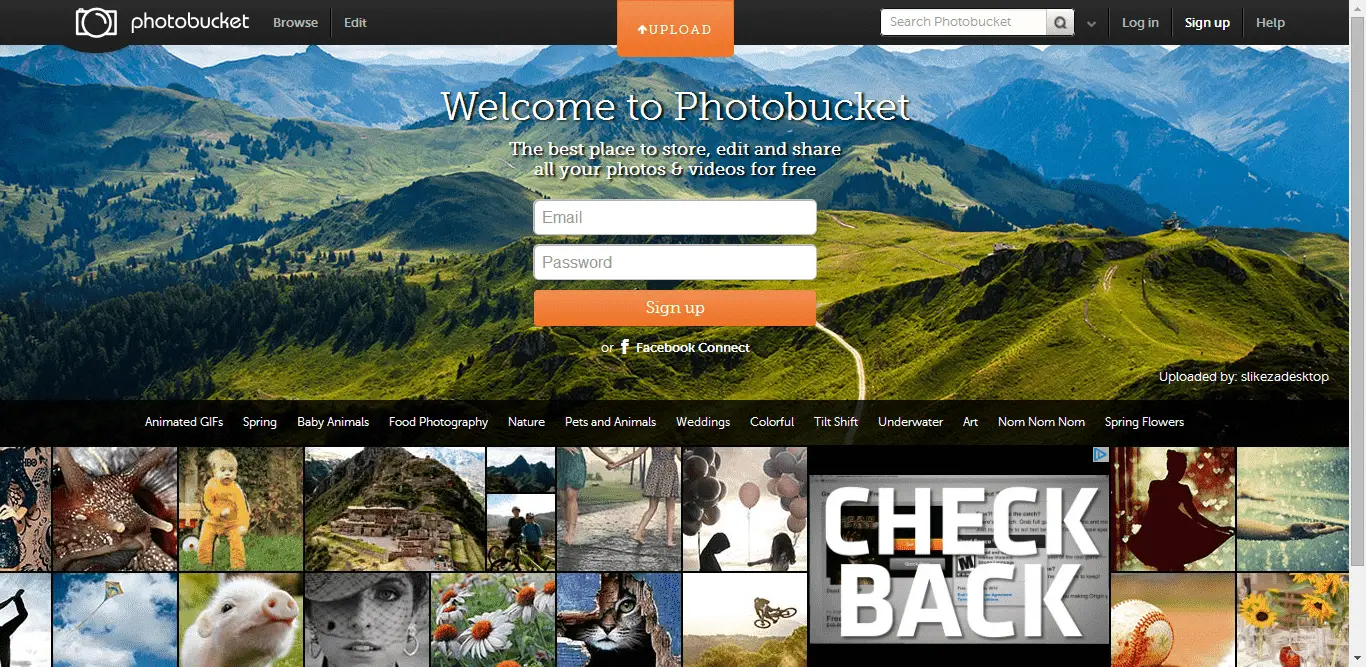 The internet was more than willing to take advantage of this, and Photobucket's userbase quickly grew to include everyone from businesses to people playing forum games. Unfortunately, hosting images and providing bandwidth for hotlinking costs money – and Photobucket wasn't making enough from selling products.On June 30, 2017, Photobucket "broke the internet" (or at least billions of hotlinked images) when it completely dropped its free hosting service with no warning to users. People were asked to pay $99/year to link to pictures on Photobucket, or $399 to allow them to be embedded on other websites.
The immediate reaction was "Are you [expletive] serious?". Photobucket's asking price was significantly higher than the cost of buying a domain of your own and hosting images there, and the fact that this came with absolutely no warning resulted in a brief surge of panic across the internet. It wasn't just tight-knit personal gaming groups that were affected – the loss of hotlinking disabled images on many commercial websites as well.
Many people felt like Amazon was effectively trying to extort money instead of behaving like a reasonable company. One of the things that garnered the most significant objections was the lack of tiered plans. Some people only used a few megabytes of bandwidth a month – hardly even noticeable for a company of Photobucket's size. Despite that, even these users were told to pay $400 to keep externally hosting things as some of them had for more than a decade.
This didn't go over very well. Many users promptly deserted Photobucket, downloading all of their images and taking them to other file hosts.
Eventually, Photobucket decided to ease up on things – and put a watermark over externally hosted images instead. Today, it offers three paid plans for storing and sharing content – which is more affordable than its initial request, if still far more expensive than before.
Photobucket's Paid Plans
These are the three paid plans Photobucket currently uses.
Beginner: $48.38/year, with 2 GB of storage (about 400 photos)
Intermediate: $69.98/year, with 20 GB of storage (about 4,000 photos)
Expert: $123.98/year, with 2 TB of storage (about 400,000 photos)
Each of the paid plans removes ads, allows hotlinking without Photobucket's watermark, and allows for unlimited sharing. Photobucket also has month-by-month plans with the same amount of storage, but these are more expensive than the annual plans.
Photobucket's Free Plan
Photobucket's free plan provides 2 GB of storage for uploading photos and videos. It does not have 3rd Party image hosting (displaying pictures on other websites). They've lowered the price of that with the Beginner-level subscription, but external image hosting is still limited to paid users.