*This post may contain affiliate links. As an Amazon Associate we earn from qualifying purchases.
American Express's online banking dashboard is one of the best in the banking industry. With a few clicks, you'll find everything you need to manage your American Express accounts. From renewing your card to checking up on your Membership Rewards earnings, everything's here and within easy reach.
We recommend signing up for online banking over paper statements because the self-management tools allow you to skip phone calls and chatbots unless absolutely necessary. You can check your spending, question strange transactions, pay your bills, and even check your spending power.
American Express requires customers to create different accounts according to the type of account you use. You'll need distinct accounts for:
Personal credit cards

Merchant accounts
It may sound confusing, but you access each one from the same login page on the American Express home page.
Do you have your new card and want to get to know all the benefits of being a card member? Keep reading for our complete guide to logging into American Express for the first time.
How to Create Your American Express Online Banking Account
Did you receive approval for a new American Express account? You'll need an online banking account to match. You can't open your account until your new card comes in the mail, but once it arrives, head over to your computer.
With your card in hand, navigate to the American Express home page. From here, you'll see a log-in box with space for your username and password. You're not ready to log-in yet; first, you need to create your username and password.
Below the data entry section is a link titled "Create an Online Account." Click the link to reach the account creation generator.
Why Create an American Express Account?
An American Express online account is an asset to all American Express Cardmembers. It is a secure way of viewing your account details without sitting on hold. It also gives you up-to-the-minute access to your card details so that you can manage your finances more effectively and flag fraud faster.
Using the online services also helps you get better acquainted with your card and all the benefits American Express offers. Your card is more versatile than you realize, so it's good to spend time using the resource center to learn more.
What You Need to Create Your Account
To create an account, you'll need:
16-digit card number

4-digit card ID (CID)

Unique username

Unique password
To get started, enter your 16-digit card number into the relevant box. The box should lie on top of a digital image of your American Express card. When you enter your CID, you'll put it in the box that corresponds to where you CID falls on your card.
Adding your card details links your American Express credit card directly with your online account to avoid errors and discrepancies. Before moving on, double check your card number and CID to make sure they're correct. Once you feel certain all the numbers match your card, select "Confirm."
Now, you are in the phase where you must create the unique identifying information that allows you to securely log in to your account. You'll need to enter a unique username and password. Be sure to write them down somewhere safe or store them in an encrypted password manager.
You will also select online security questions that make the most sense to you. We recommend choosing questions that you can offer specific answers to avoid any confusion. Then, select your questions and type in the relevant answers.
Can I Reset My Details?
Yes, if you want to change your password or security questions, you can do this from your dashboard once you log-in. If you need to reset your details because you forgot your User ID or password, then you'll need to request them.
To request your User ID or password, visit the American Express homepage. Instead of entering your details, click the Forgot Password link at the bottom of the box. While other online accounts may send you a reminder email, American Express takes online security and privacy more seriously in part due to the nature of its business in the financial industry.
You need to enter your 16-digit card number as well as your 4-digit CID to request your new password. These details prove you still have your card and it wasn't stolen. From here, American Express will email you to help you through the change. You'll complete the change on the American Express website.
Keep the phone linked to your account close when you go through the process. If your request trips the company's fraud alert, the fraud prevention team might text or call you to verify your identity. You'll find this is the case when:
Your account already shows suspicious activity

You try to reset your username and password at once

You send the request from behind a VPN or a strange IP address
How to Choose a Secure Password for Your American Express Account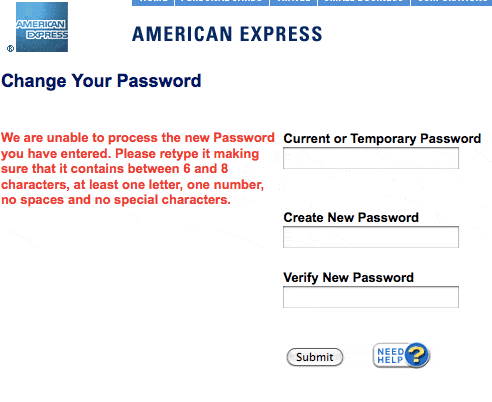 American Express has high password standards compared to other sites. You may be used to using the same password for each of your accounts, but you may find you need to modify your password to meet the rigorous requirements.
Your password must be a minimum of eight characters and a maximum of twenty characters. You must use at least one number in it. If you prefer numerical passwords, you must include at least one letter.
American Express recommends using special characters like question marks, pound signs, or ampersands. However, you may not use exclamation points (!), stars (*), or the at symbol (@).
How to Log-in to Your Account from the Web or the App
American Express accounts are available via the American Express homepage or through its dedicated app available in both the Android and Apple stores. Once you open the webpage or app, you will see a prominently placed box with space for your username and password.
Enter both into the box, and double check them for accuracy. If you want the website to remember your device, check the box below the password entry to save your details. Be sure not to save your details on a public computer or an unsecured connection.
How to Log-in From a New Device
If you get a new phone, tablet, or computer and want to log into your account, prepare to complete extra security measures. When American Express doesn't recognize you, it will ask to send you a verification code to enter to confirm your identity. The code is good for one-time use, and it must be used without a set time frame before it expires.
You can't walk away from your computer for an hour and try again with the same code. You may choose one of two methods for receiving your code: email, text message, or phone call. Select the one most convenient for you to receive your code. Don't close your browser during the process, or you will need to request a new code.
It may take several minutes for the message to get to you. If it hasn't arrived after five minutes, check your filtered folders to see if it wasn't directed to spam. The code you receive will feature six digits in the body of the text or email. Alternatively, the voice on the phone will share the six-digit code.
In the meantime, American Express will redirect you to a page with a space for the code. Enter the code into the appropriate box and submit it. Type it manually and avoid the copy-paste function. Copying and pasting the code from an email may contain formatting that confuses the website.
How to Use Your American Express Online Account
American Express online banking is a one-stop shop for all your needs and services. There are few account actions that you can't complete from your account.
Some of the basic account actions include:
Checking your balance

Viewing your payment history

Setting up a new payment

Scheduling a future payment

Signing up for monthly offers and rewards

Checking your spending power

Changing contact details and preferences

Reviewing charges and statements

Initiating fraud investigations on individual charges

Applying for a new card

Viewing your credit report

Using financial resources
If there's an action you'd like to take, but you're unsure how, then the help and resource center will undoubtedly answer your question. All you need to do is enter your query into the search bar, and you'll receive related questions and answers or a link to an explainer page.
American Express also invests in new technology that limits the maintenance you need to provide for your account. For example, you never need to ​tell American Express when you travel.
The software used recognizes when you are going to leave your home market based on your transactions. If you live in California and book a flight to London, your card will work upon arrival because it already knows you're there.