*This post may contain affiliate links. As an Amazon Associate we earn from qualifying purchases.
If you used Cbeyond to host your websites, you are probably already aware that they no longer exist. However, the company that bought Cbeyond, Birch, has kept all Cbeyond webmail accounts open. Whether you made the switch to being hosted by Birch, or ended all service contracts, you can still access your Cbeyond account. The only difference between signing in to the old Cbeyond webmail portal and the new one is the name. However, your User ID and password are still the same. See how easy the Cbeyond webmail login process is by following these steps.
Please note that at the moment, the company is experiencing difficulties with their sub-system. As a result, you will have to wait until the issues are fixed to get access to your account. However, when the portal is live again, the following instructions will apply.
Cbeyond Webmail Login Step-by-Step Walkthrough
In addition to checking your email, you can see all the details of your web hosting contract. Follow the steps below to access your Cbeyond webmail account.
Open the Cbeyond member area login page.
Type your username in the appropriately marked field.
Type your password in the next field.
Click the orange button marked "Login".
If you want to log in to your Cbeyond email account on your phone, it's easy. There are no apps to download or long browser loading times. Instead, you can synchronize your mobile phone to your email.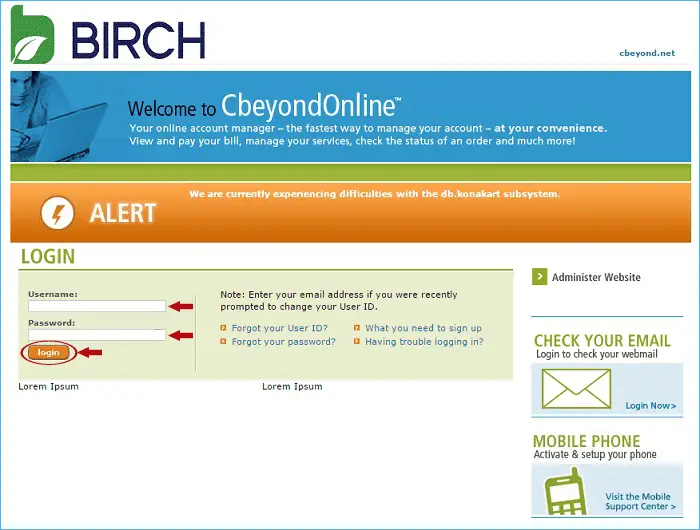 Cbeyond Webmail Mobile Login Walkthrough
In order to sync your mobile device with your Cbeyond account, you will need a phone number. Unfortunately, that means this process will not work with tablets or other devices.
Log in to your account using the steps outlined above.
Hover your cursor over the "Manage Services" tab at the top of the page.
Click the link labeled "Email" in the column marked "Applications".
Click the button marked "Edit" next to the mailbox you want to sync.
Click the tab marked "Mobile".
Check the box marked "Enable Active Synchronize Mailbox".
Type your mobile phone number into the field marked "Active Sync#".
Click the button marked "Save".
This will sync your Cbeyond mail with your mobile phone, regardless of brand or operating system. However, you must have a primary email account already linked to your phone.
Cbeyond Webmail Login Possible Issues
Because Cbeyond itself no longer exists, in order to send or receive new emails with your webmail account, you will need to have an account with Birch. However, if you do have an account with Birch, you will be able to view all old emails as well as send and receive new ones.
Many people have difficulties logging in to the old Cbeyond webmail login portal. If that's the case, you may need to log in via the BirchConnect login page. If you're still having problems with connectivity or password retrieval, contact the Birch support staff at 1-866-424-5100.
Quick & Useful Information
Many former Cbeyond customers experienced issues with their webmail accounts when the company was acquired by Birch. Most of these problems have been resolved and former customers can now view old emails and records. For current customers, while the user interface may look different, your Cbeyond account and webmail address still perform the functions you're familiar with.